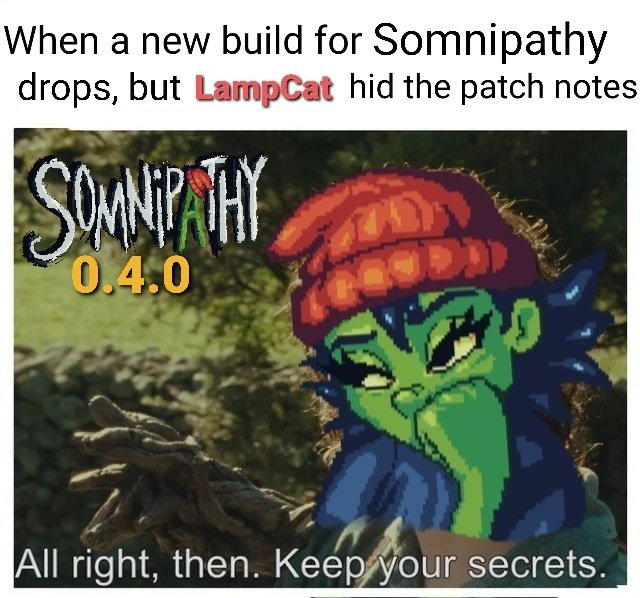 Our newest version yet of the Somnipathy demo is now out! From here forward alot of work is going on to post demo content, but when things affect the gameplay in the demo, we'll be posting all relevant patch notes! Without further ado, the patch notes!
0.4.0
End of year Release!
Journal Revamp – Brand new animations, organization, and an enemy codex!
Added 'hint' system for misplaced items on the Whiteboard. Rooms with items you can pick up have a cat paw icon on them
Visual FX additions – New filters and effects to let you know when you're in danger, take a hit, and more
Fixes to visual glitches in the Intro levels
Added many missing sound effects in the Intro levels, Piano room, interface, and store
Added more feedback when you pick up, use an item, or hover over an item
Fixed broken Aggy animations (Grab, Stare)
Added new Aggy animations (Wakeup, Death, Walk, Sit, Dance)
You can now make Aggy dance by hitting the 'd' key
Added a video mode. Hide HUD and Mouse, by hitting 'v'
Fixed sprint persisting through interactions
New cutscene added to room 12 (piano room)
Fixed pathing and interactions in room 17 (forge)
A new 'pre tutorial' cutscene flashback has been added to new games!
0.4.2
Dialog Fix for the intro flashback
Added new flashback
Minor text fixes
As always, please wishlist on Steam if you haven't yet, and play the demo there or on Itch.io. Stay tuned for more exciting information!